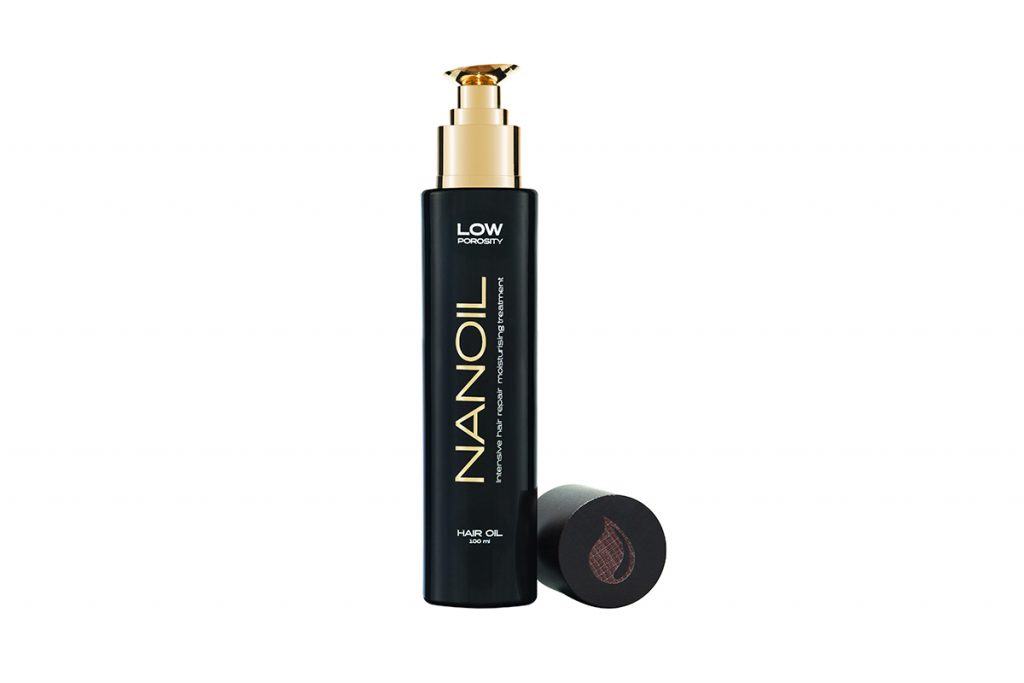 Appearance, capacity:
The black glass bottle with a wooden cap, contains 100 of high-quality oils. Nanoil Hair Oil comes in three versions, each dedicated to a different type of hair. One of them matches low porosity hair. Nanoil has a beautiful scent and has a nice consistency that facilitates the application. The product is efficient.
Components of the product:
Each of the three versions of Nanoil has a different composition. They all comprise natural oils and a set of other valuable substances.
Nanoil for Low Porosity Hair includes: Pine oil (provides antiseptic effects, balances sebum, cleanses the scalp and facilitates the absorption of the rest of the components), Coconut oil – delivers crucial micronutrients and protects from damage, Argan oil (protects against high temperatures), Castor oil (inhibits hair loss, boosts hair growth), Maracuja oil (provides vitamins, delays ageing), and butters good for low porosity hair: Shea, Babassu, Monoi, Cupuacu. They are responsible for the good condition and proper care without weighing down.
Nanoil is easily absorbed, does not overburden the hair, takes care not only of the looks but also proper pH of the scalp and the condition of the follicles. The cosmetic leaves the hair lightness and shine, and thanks to particular ingredients (present in all three versions of Nanoil), it prevents thinning, boosts growth and thickens the hair.
Nanoil For Medium Porosity Hair and Nanoil for High Porosity Hair include oils with particles that match the hair structure (slightly bigger particles for medium porosity and the largest ones for high porosity). This allows Nanoil to reach deep hair parts where other hair care products have no chance.
Each of the three versions of Nanoil includes a range of conditioning and beautifying substances as well as a very important feature – a sunscreen. The product leaves hair regenerated, strong, healthy, beautiful, full of vitality and resilience: regardless the type and the structure. It is the answer to every hair problem you can encounter. It boosts hair growth, prevents thinning, improves volume. All you need to do is to choose one, suitable version.
Purpose:
Nanoil Hair Oil is designed for all types of hair. Each of the three versions is intended for different structures: from dry and very damaged, lacking elasticity and vitality, unruly, through frizzy, lacking lustre, slightly over-processed, difficult to style and volumeless. The latter type is referred to as low porosity hair.
Directions:
Nanoil is quite a runny oil, which is extremely easy to apply to the hair and scalp. It spreads well and does not trickle from the hair. The low porosity version is a lightweight formula that does not overburden the hair. Nanoil is very efficient – one dose of the pump is enough for the entire hair (about shoulder length or slightly longer), so about two pumps should be used on the scalp and hair together. Nanoil can be applied to dry hair followed by rinsing; left in for several hours, or onto wet hair during shampooing or immediately after washing.
Final evaluation:
The best product for hair care and nutrition, containing natural oils. Non-comedogenic, paraben free, adapted to hair type (available in three versions). Rich in a range of natural, high-quality oils, plus, additional substances responsible for the regeneration of the entire hair shaft and its bulbs. Nanoil oil speeds up hair growth, prevents baldness (prevents baldness not only for women but in the case of men), and thickens the entire hair – it is noticeable especially along the hairline just above the forehead.