Hair butters – cover your hair with beauty!
---
Hair butters became really popular hair care method these days. These are natural, fully safe, regenerate both hair on their entire length and scalp along with hair bulbs. Thanks to them, hair gain complex protection and are less susceptible to damage. Then even freeze, intense sun or dry air form radiators are no threat to hair. Hair ends are protected, strands are not falling out and are safe against dryness or oily scalp. What is more, hair butters provide hair with beautiful appearance and gloss without weighting down as well as make strands softer and smoother.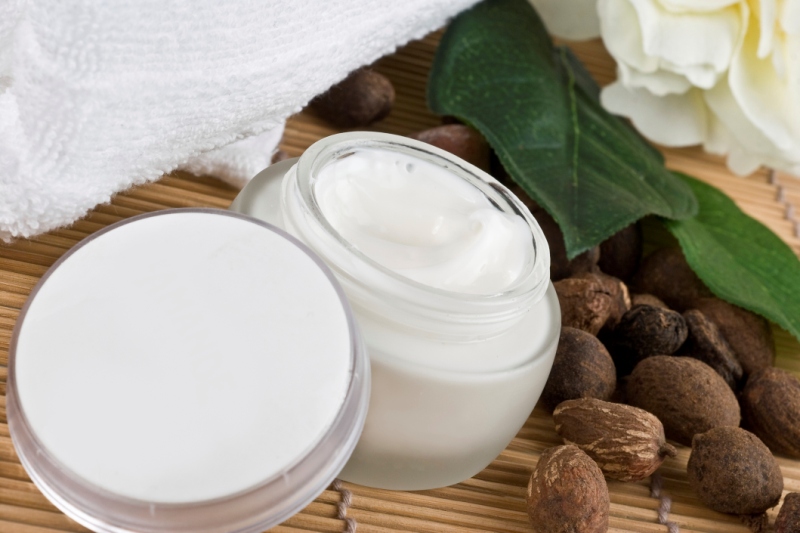 Nonetheless, hair butters are not for everyone. Ladies with high porosity hair that have bad condition, shouldn't use hair butters. Their small particles won't do much by getting into widely raised hair cuticles in high porosity hair. For this reason hair butters should be used exclusively on low porosity hair (some butters are great also in conditioning medium porosity hair).
Okay, but what hair butters are best?
Which one will turn out to be best in hair care?
Here's list of the most popular hair butters:
SHEA BUTTER (KARITE)
It is hard butter with beige colour. The butter has amazing scent, that makes each beauty treatment more pleasing. Due to content of essential fatty acids is suitable both for hair with low and medium porosity. The proportions for these fatty acids are more or less even. About 50% saturated and about 50% monounsaturated fatty acids.
Shea butter is one of the most popular hair butters used in cosmetology. Due to numerous vitamins, polyphenols and phytosterols, it ensures great care to hair and scalp. Shea butter inhibits ageing processes, improves processes in cells, regenerates and protects hair to make them full of gloss and silky smooth.
COCOA BUTTER
It is quite hard and yellow butter, that has a form of irregular lumps. It has nice, chocolate and cocoa scent.
There is more saturated fatty acids. For this reason is more suitable for hair with low porosity. Thanks to it, hair gain right vitamins and elements like magnesium, potassium, calcium and iron. Hair are well protected against damages and strengthen on the outside and on the inside along the entire hair shaft. Cocoa butter will also inhibit ageing processes in hair. Regular hair oil treatment and application of cocoa butter on both hair and scalp will stop it from falling out and support its healthy growth.
BABASSU BUTTER
This butter consists of more saturated fatty acids (even 80%) than any other. It is just perfect for low porosity hair. The butter has softening properties on strands, which is truly beneficial for thick and often stiff low porosity hair. Babassu butter will protect hair against harmful impact of external factors, won't allow toxins from the environment to penetrate inner hair structures. Babassu butter is really soft and is a great addition to hair masks and conditioners. Hair are going to be glossy, hair ends protected and strands will not be weighted down.
MURUMURU BUTTER
It comes from South America, Amazon forests to be precise. The butter is obtained from Astrocaryum seeds. It has delicate, characteristic scent and slightly yellow shade. Murumuru butter is not hard and is melting in about 33 Celsius degrees. It is perfect addition for conditioners and hair masks. Due to melting at contact with skin, it does not require water bath (just the heat of your hands is enough for the butter to change its form). The butter can be applied directly on hair and scalp. High content of saturated fatty acids makes it dedicated mostly for low porosity hair. In a great way smoothers, softens and protects strands, providing them with gloss and vitality.
COCONUT BUTTER
In other words, the most popular, the most affordable and generally available butter. It is mostly called not "butter", but "coconut oil". Its popularity is no surprise, because of its really affordable prize and stunning properties. Coconut oil contains 80% saturated fatty acids and is one of basic butters to try by those of you who have low porosity hair. It's delicate, smells great and its small particles will penetrate even deepest hair layers, without causing weight down. Coconut butter can be used individually – as a deep nourishment and protection treatment on hair, or as an addition to all sorts of hair masks and conditioners. Coconut butter perfectly regenerates hair fibres and protects it against mechanical damages as well as unfavourable atmospheric factors. It is great as a protective serum for hair ends. Use coconut butter as a hair mask by applying it on strands half an hour before hair wash.